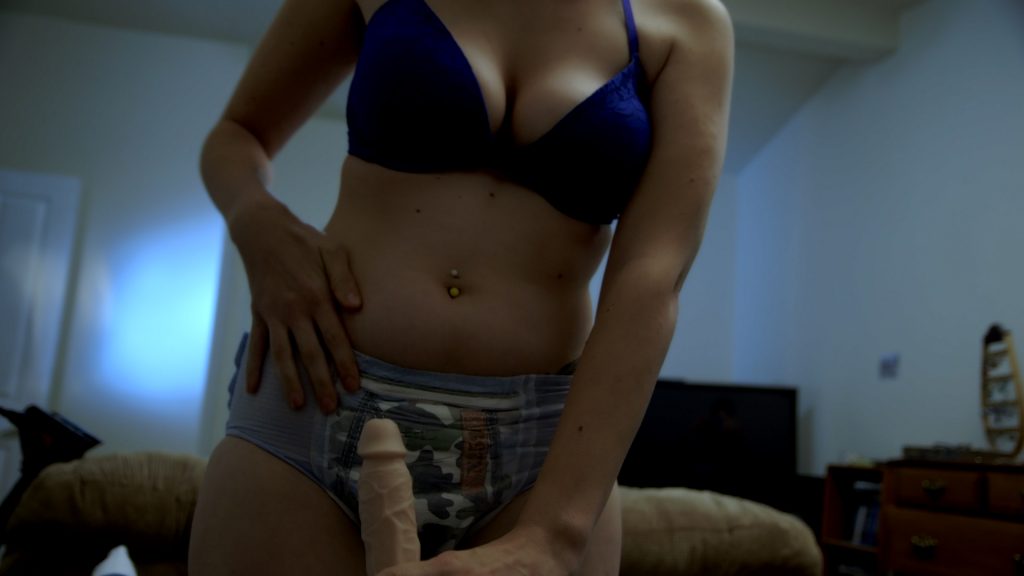 In this sexy, point-of-view video, Sosha gives you a blowjob.
Imagine this- You are laying back, relaxing on your bed, when a sexy girl comes in in starts straddling you.  It is obvious she is very horny, touching herself and teasing you.  Soon, she takes her shirt off, but then she reveals a secret- She is wearing a pullup style diaper, the same kind kids wear for bed wetting.  She flashes her diaper at you, teasing you with it, knowing that you like it.
It is obvious that you are getting aroused, watching her in her cute little diaper.  She massages the bulge in your pants, before slowly unzipping your jeans and taking your cock out.  For a moment she is surprised by how hard you are, but then keeps you with her diaper, rubbing it against you.  Then, she bends over and her lips touch your penis.
Wearing nothing but a diaper and bra, she proceeds to lick up and down your shaft.  Taking your entire dick in her mouth she sucks you, enjoying every minute of it.  You manage to last a really long time, after about five full minutes you finally blow your load, shooting directly into her mouth.  She gulps down every last bit, leaving your cock completely clean by the time she is done.
---
Notes:
When we created this video, it was our hope that you would play a long, enjoying this point of view experience.  We hope that you are able to place yourself into the video and stimulate yourself as you watch, matching the action on the screen.  This is our first attempt at doing an interactive, point-of-view, video like this, so let us know what you think.  Please contact us to give us feedback on this video.